Kelman TRANSFIX
The TRANSFIX is an 8-gas on-line transformer DGA monitoring unit. Using specially developed advanced photo-acoustic detection technology, the TRANSFIX measures all significant fault gases (in ppm) as outlined by international standards as well as moisture in oil (%RH & ppm). The measurement of these gases allows the user to detect and diagnose a complete range of transformer faults.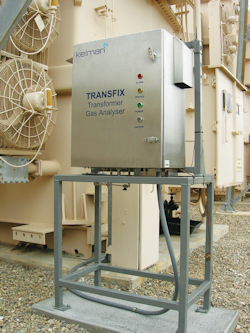 Applications
Medium and large sized transformers.
Medium/High/Critical risk and/or consequence of failure.
Generation, Transmission and industrial transformers.
Complete transformer monitoring and diagnostics.
Benefits
Transformer faults detected in their infancy, minimizing costly unplanned outages and equipment failure.
Transformer output optimized safely, maximizing your assets.
Photo Acoustic Technology – no costly consumables/calibration gases required.
Transformer ageing can be calculated.
Detection and diagnostic of transformer faults from results.
Designed for field use – global installation by almost all major utilities.
Features
DGA & Water – Eight gases (hydrogen, methane, ethane, ethylene, acetylene, carbon monoxide, carbon dioxide and oxygen) plus moisture and nitrogen calculation.
Inputs/Outputs for additional sensors including load and temperature.
Easy Installation – Simple, straightforward procedures.
Hourly Sampling – Real-time DGA results down to once per hour.
Perception – PC software allows downloading, trending and analysis of results.
Communication Options – Extensive local and remote communications options.
Alarm Settings – Sophisticated programmable alarm system.
Acceleration of sampling rate – automatic increase in sampling rates if gas concentrations exceed caution or alarm settings.
Minimal Maintenance – Reduces expense and inconvenience for user.

Download Kelman TRANSFIX Fact Sheet (PDF, 984 KB)