Smallworld GeoSpatial Analysis
Smallworld GeoSpatial Analysis™ is a new, exciting, and easy to use business intelligence product from GE Energy. An integral part of the Smallworld product suite, Smallworld GeoSpatial Analysis offers easy and efficient access to data from distinct, distributed spatial and non-spatial systems. This data can be shared across the enterprise, empowering a wide range of users with visualization, query, analysis, and reporting capabilities.
Smallworld GeoSpatial Analysis™ introduces the concept of business objects, which link together spatial and non-spatial information, maps, photographs, documents, and websites in a unique and flexible way. These business objects match end-user needs and form the basis for detailed analysis and further visualizations.
Features and Benefits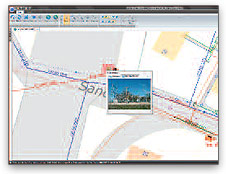 Smallworld GeoSpatial Analysis empowers end-users throughout the enterprise, allowing flexibility to fulfill organizations' business processes. Typically the following steps are taken:
Find and Locate
Examine and Visualize
Create and Share the Information
Open, Remodel and Configure

Download Smallworld GeoSpatial Analysis Fact Sheet (PDF, 962KB)