Smallworld Network Inventory
The Smallworld Network Inventory™ Solutions helps customers to reduce network capital and operational expenditure by improving network utilization, increasing workforce productivity, reducing planning and engineering time, accelerating response to network outages and reducing risk of provisioning failure.
Full integration with other business applications provides a seamless flow of information throughout the enterprise.
GE offers a portfolio of products through Smallworld Network Inventory that provides end-to-end solutions for multi-vendor, multi-technology networks, encompassing integrated service and network-level data.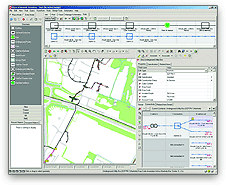 Please contact us for more information about Network Inventory Solutions.

Download Smallworld Physical Network Inventory Fact Sheet (PDF, 677KB)

Download Smallworld Fibre-to-the-Home Fact Sheet (PDF, 832KB)

Download Smallworld Wireless Network Inventory Fact Sheet (PDF, 204KB)

Download Smallworld Logical Network Inventory Fact Sheet (PDF, 703KB)

Download Smallworld Network Inventory Gateway Fact Sheet (PDF, 851KB)

Download Smallworld Bearer Management Fact Sheet (PDF, 84KB)