Smallworld Schematics Generator
The Smallworld Schematics Generator product transforms complex geographic networks into compact, simplified schematics to support fast, confident decision-making. With a simplified view of the network, companies can quickly determine critical information such as capacity requirements, load balancing, routing and component relationships from a single drawing.
Features & Benefits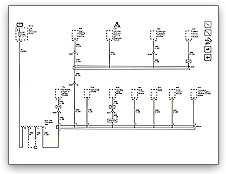 With the Smallworld Schematics Generator, you can create schematics of all or
parts of your network and render them in a variety of layouts including
orthogonal, circular, hierarchical and symmetrical. You can create nested
layouts to show both visible network elements and their internal view.
Advanced white space management capabilities minimize network element clutter to
generate a highly legible schematic view for even the most complex networks.
Tools for hard-copy map book publishing and maintenance are also included.
The Smallworld Schematics Generator delivers the following benefits:
Provides improved decision support for network expansion, performance monitoring and emergency response
Leverages existing GIS data and external data sets to support operational activities
Eliminates costs associated with maintaining separate geographic maps and schematic drawings
Smallworld Core Spatial Technology™ software customers can now leverage the value of their GIS data without the high cost of customization or the need to recreate schematics manually from disparate data sets.

Download Smallworld Schematics Generator Fact Sheet (PDF, 55KB)